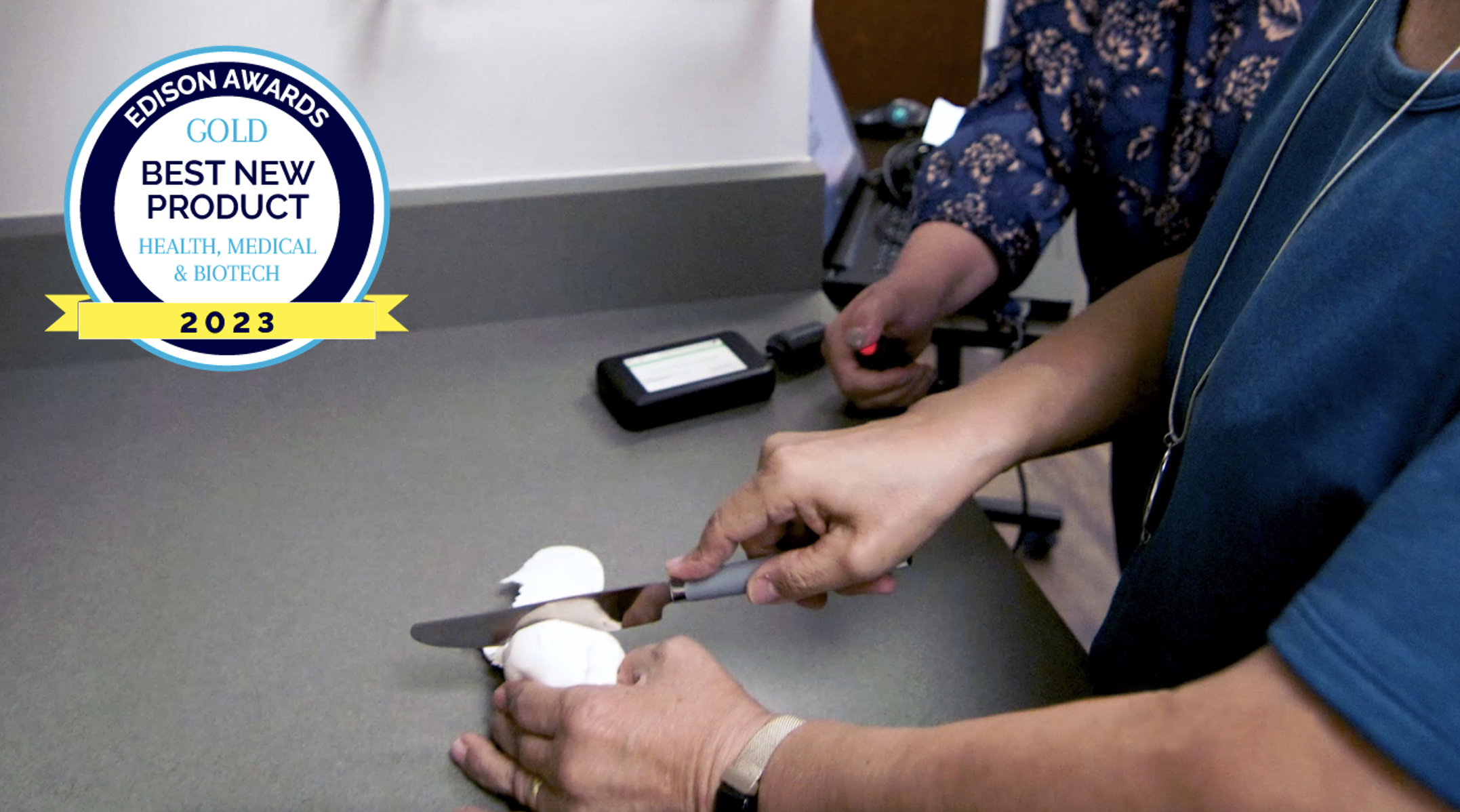 This Award is for You! Edison Award Celebrates Stroke Rehabilitation
The first innovation to enhance the effectiveness of stroke recovery in nearly 30 years, the Vivistim System emerged as a standout medical device in the Edison Awards' Health, Medical and BioTech category among nearly 30 finalists, winning the Gold Best New Product Award in the Advanced Therapeutic subcategory. An independent judging panel evaluated the entries on four criteria: concept, value, delivery and impact. Our co-founder and president, Jordan Curnes, reveals the personal significance of the award and the continued mission to ensure Vivistim is available to every ischemic stroke survivor.
By Jordan Curnes, co-founder and president, MicroTransponder, Inc.
It's a Personal Matter
The FDA-approved Vivistim® Paired VNS™ System won a 2023 Gold Best New Product Edison Award for being a game-changing solution that helps stroke survivors live fuller lives. Millions of stroke survivors in the United States suffer from persistent impaired hand and arm function six months after their stroke. If you're still suffering, we won this award for you! There's no accolade with greater importance than one that reflects our mission of helping stroke survivors improve their hand and arm function to enhance their quality of life.
When we developed Vivistim, the idea was to enhance the effectiveness of the occupational therapy or physical therapy for stroke rehabilitation. That's why Vivistim pairs vagus nerve stimulation with your rehabilitation exercises. And it works! The Vivistim System has been clinically proven to help ischemic stroke survivors gain 2-3 times more hand and arm function than traditional rehabilitation therapy alone.1
It's been a long, 10-year journey but making the Vivistim System available to stroke survivors is a personal matter for our team. We see firsthand the impact that Paired VNS Therapy has on our family members and early Vivistim users who survived strokes. Their Vivistim Victories further fuel our passion to improve the standard of care for all stroke survivors, giving you new hope for recovery.
We're eager to have every ischemic stroke survivor who has not yet achieved their desired goals, even after years of rehabilitation therapy, discover Vivistim – the first innovation to enhance the effectiveness of stroke rehabilitation therapy in nearly 30 years.
New Hope for Ischemic Stroke Survivors
Vivistim is ideal for ischemic stroke survivors who have chronic arm and hand impairment after six months. Where previous physical therapy or occupational therapy did not help them make their desired rehabilitation gains, Paired VNS Therapy enhances the effectiveness of rehabilitation therapy.
To benefit from the system, ischemic stroke survivors will have the small Vivistim device placed in their upper left chest area during a short outpatient procedure. Once cleared for rehabilitation, they engage in occupational and/or physical therapy where a therapist uses a wireless transmitter to signal the Vivistim device to deliver a gentle pulse to the vagus nerve while the stroke survivor performs a specific task, such as putting on a hat, brushing hair or cutting food. The simultaneous pairing of the rehabilitation exercise in high repetitions with vagus nerve stimulation helps increase neuroplasticity and strengthens neural connections to improve upper limb function.
Vivistim Victories
Vivistim has already helped stroke survivors from across the country make life-changing improvements to their hand and arm function.
For instance, Rosa Maria Villalpando, the first stroke survivor to use the Vivistim System commercially, was paralyzed on her left side after her stroke in 2017. She credits the Vivistim Therapy she received at Keck Medicine of USC for helping her to be able to open her left hand and move her left arm more.

Similarly, David Sullivan has struggled to use his left hand and arm since surviving a stroke in 2020. His healthcare team at Massachusetts General Hospital and Spaulding Rehabilitation Hospital recommended Vivistim, which has helped him make gains, such as swinging a bat.
Esteemed neurologists, neurosurgeons, physiatrists, occupational therapists, physical therapists and other healthcare professionals share our enthusiasm for Vivistim, praising Paired VNS Therapy for creating a paradigm shift in stroke rehabilitation that helps survivors get back to doing the daily activities of living and hobbies they enjoy.
Today's the day your will finds it way! Take our qualification survey at Vivistim.com/GetStarted and let's find out if you're a candidate for Vivistim.
For full safety information, please see Vivistim.com/Safety. Individual results may vary.
About Jordan Curnes, MBA
Jordan Curnes is the co-founder and president of MicroTransponder, Inc., a privately held, global medical device company based in Austin, Texas, committed to developing research-based neuroscience solutions. In collaboration with two friends from high school and impassioned by family members affected by stroke, Curnes created the FDA-approved Vivistim System to help stroke survivors enhance their quality of life through regained independence. Curnes is a 2023 finalist for the Ernst & Young Entrepreneur Of The Year® 2023 Southwest Award.
26-0016-0047 Rev. 0
---
Get Started Today
Complete the qualification questionnaire and one of our Vivistim specialists will call you to discuss whether Vivistim is right for you.