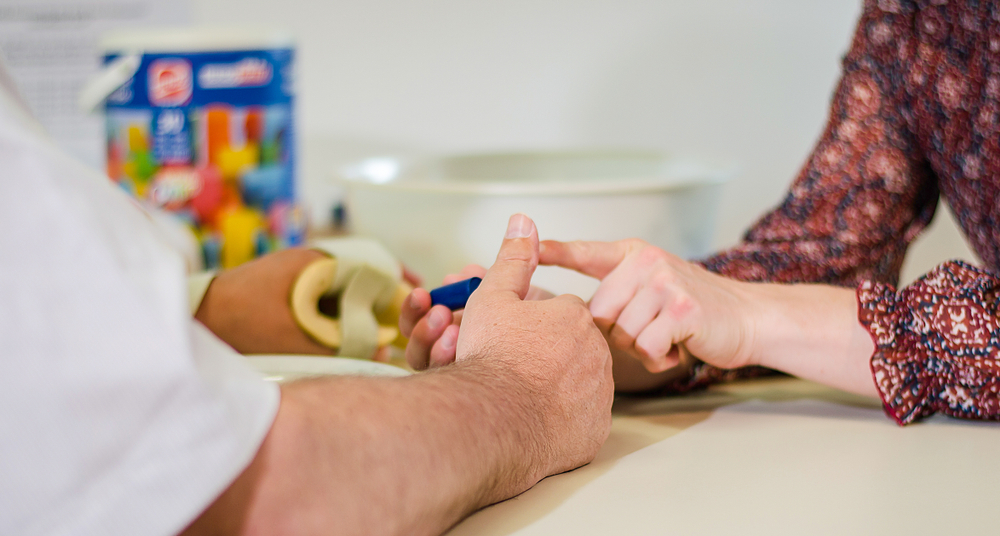 5 Frequently Asked Questions about Physical and Occupational Therapy
Post-stroke rehabilitation is a vital component of your recovery journey. With it comes many new medical terms, specialists, and therapy techniques. In-patient vs. outpatient. And the focus of this blog, physical therapy vs. occupational therapy. As an occupational therapist specializing in neurorehabilitation with over 15 years of experience, Ruchi Patel, MA, OTR/L, is all too familiar with stroke survivors who often begin down one path or the other without having informed expectations of their physical or occupational therapy. By answering these five common questions about stroke rehabilitation, Patel seeks to provide you clarity while offering hope and peace of mind as you and your caregiver begin or continue the stroke recovery journey.
By Ruchi Patel, MA, OTR/L
Surviving a Stroke
You're not alone. Every year, approximately 600,000 stroke survivors require post-stroke rehabilitation to address impairments and disabilities due to brain damage from the stroke. Once stabilized after the stroke, your healthcare team probably began talking to you about stroke rehabilitation. While physical therapy for stroke rehab is fairly understood, how it's complemented by occupational therapy is a lesser-known concept. Be assured that occupational and physical therapy may be a part of your recommended post-stroke rehabilitation program, and you'll benefit from both. Being aware of the similarities and differences, however, empowers you to make informed decisions throughout your recovery journey.
This highly repetitious pairing of vagus nerve stimulation with stroke rehabilitation helps to increase what is known as neuroplasticity, the process of engaging other undamaged parts of the brain to take over the work that had previously been done by the parts of the brain damaged in the stroke.
Physical Therapy vs. Occupational Therapy: 5 Frequently Asked Questions
1. Can a stroke survivor get both physical therapy and occupational therapy?
Yes, depending on your mobility limitations and your insurance benefits, you may receive either occupational or physical therapy or both. Most insurances, however, will prohibit you from simultaneously receiving dual therapies for the same impairment. For example, if you have arm weakness post-stroke, you cannot engage in occupational and physical therapy at the same time for arm weakness.
Traditionally, physical therapy addresses your post-stroke balance issues and leg weakness, while occupational therapy addresses your post-stroke arm weakness and thinking or cognitive challenges. There may be a crossover, though. Physical therapists may incorporate the weak arm into a treatment activity focused on walking, and the occupational therapist can incorporate balance into a treatment activity focused on arm movement.
You may participate in physical therapy and occupational therapy simultaneously or consecutively. Both approaches are clinically proven to be beneficial for stroke survivors, so it's important to start as soon as you are able.
Physical and occupational therapy are typically offered at comprehensive stroke centers and rehabilitation programs via inpatient, outpatient or homecare settings. In some locations, such as rural areas, a physical therapist may be the only clinician available.
2. How are physical therapy and occupational therapy the same?
Physical and occupational therapy work on different impairments with the shared goal of improving your overall quality of life and reducing the amount of help you need from caregivers. Stroke rehabilitation therapists, whether physical or occupational, leverage their expertise to help you relearn and regain the skills needed to lead a meaningful life.
Before facilitating your therapy, the stroke therapist will first evaluate your mobility and limitations, and then they'll create an individualized treatment plan for you to follow in stroke recovery based on your goals for recovery.
3. What are the differences between physical therapy and occupational therapy?
Physical therapy focuses on movement to improve your quality of life through prescribed exercise, hands-on care and patient education. Additionally, physical therapy helps stroke survivors maximize their mobility, manage pain and chronic conditions, and improve physical function and fitness.
Occupations are the activities you need and want to do – like cooking, getting dressed, managing medications, working, playing or caring for others. Think of them as things that "occupy" your time. As such, the goal of occupational therapy is to enable stroke survivors to participate in activities of everyday life. Occupational therapy focuses on remediation, the process of restoring a lost function, or compensation, the process of learning "workarounds," by addressing the underlying physical, cognitive and/or psychosocial impairments affecting your ability to participate in daily activities.
The complex relationships among the stroke survivor, the activity of daily living, and the environment where the activity occurs are essential considerations for effective occupational therapy.
4. What education and credentials should physical and occupational therapists have?
Physical therapists and occupational therapists are medically licensed professionals. Each profession requires an advanced post-graduate degree, either a master's or doctorate, that takes up to three years to complete.
After completing their educational requirements, the therapists must pass a physical therapy or occupational therapy national licensing exam and obtain a medical license to practice. Additionally, all physical and occupational therapists are required to maintain their medical licensure according to their state's regulations.
Maintaining a license includes taking continuing education courses and participating in educational activities. Therapists use these continuing education courses to focus their clinical practice on an area of interest, such as stroke or neurological rehabilitation.
5. How do I choose a good physical or occupational therapist for my stroke rehabilitation?
I recommend considering two important factors when choosing a good physical therapist or occupational therapist.
First, ensure the therapist has experience working with stroke survivors and the unique challenges that occur post-stroke. There are nuances specific to neurological rehabilitation and stroke recovery that are vastly different from therapy approaches for someone recovering from a surgery, a sports injury, an accident, or another type of chronic illness. When evaluating their credentials, look for keywords such as neuroplasticity, neurorehabilitation or certified stroke rehab specialist.
Secondly, choose a therapist trained on the latest best practices in stroke rehabilitation and willing to customize interventions to help you achieve your specific goals effectively and efficiently. The field of stroke rehabilitation is constantly evolving as active clinical research yields new therapy approaches, technologies and standards of care.
The FDA-approved Vivistim® Paired VNS™ System is a great example that is used in conjunction with either physical therapy or occupational therapy to help generate two to three times more improvement in upper limb mobility than traditional stroke rehabilitation alone with at least six weeks of in-clinic therapy. Vivistim was designed specifically for stroke rehabilitation and some of the world's leading physical therapists and occupational therapists are now incorporating Paired VNS Therapy as a part of their therapy approach.
Choose What's Right for You

Whether occupational therapy or physical therapy, consider your healthcare professional's recommendation and choose the stroke rehabilitation intervention that is right for you at your current stage in the recovery journey. My physical and occupational therapy colleagues agree; we work with your best interest in mind and are here to complement each other toward your stroke rehabilitation goals.
About Ruchi Patel, MA, OTR/L
Ruchi Patel is an occupational therapist with more than 15 years of experience in neurorehabilitation. She has worked across numerous settings, from inpatient rehabilitation to outpatient and homecare. She also works as a clinical researcher focusing on stroke rehabilitation and has presented at numerous conferences on topics including the use of technology in rehab. Additionally, she has published papers on cognition and rehabilitation outcome measures in the stroke population. Patel enjoys creating and teaching continuing education content to fellow therapists.
Additional Resources
www.ninds.nih.gov/post-stroke-rehabilitation-fact-sheet
www.apta.org
www.wfot.org
www.aota.org
www.choosept.com
26-0016-0039 Rev. 0
---
Get Started Today
Complete the qualification questionnaire and one of our Vivistim specialists will call you to discuss whether Vivistim is right for you.